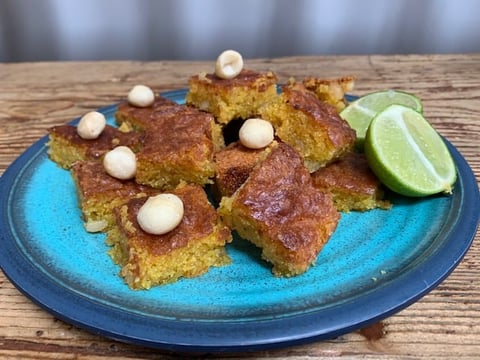 Ingredients:
▫️ 100g crushed macadamia (blitzed in food processor)
▫️ 100g ground almonds
▫️ 125 g fine polenta (blitzed in food processor for extra fineness)
▫️ 1½ tsp baking powder
▫️ 225 g softened butter
▫️ 225 g golden caster sugar
▫️ zest of 2 limes
▫️ 3 eggs beaten
⚪️
▫️ Preheat oven to 180°C/160°C fan. Grease a 23cm square loose bottomed tin, and line the base with baking parchment.
▫️ Place the ground macadamia and almonds, polenta and baking powder into a bowl and stir. Set aside.
▫️ Cream the butter and sugar until pale and fluffy. Add the lime zest.
▫️ Add half of the dry ingredients and half of the eggs, and beat to combine. Repeat with the remaining ingredients.
▫️ Spoon the mixture into the tin, and level with the back of the spoon. Bake for approximately 35-40 minute.
▫️ As soon as the cake is removed from the oven, prick the top all over with a thin metal skewer or cake tester, and cut into squares. Leave to cool in the tin. When cool, remove each square carefully. Sprinkle with sieved icing sugar and serve.
Enjoy!