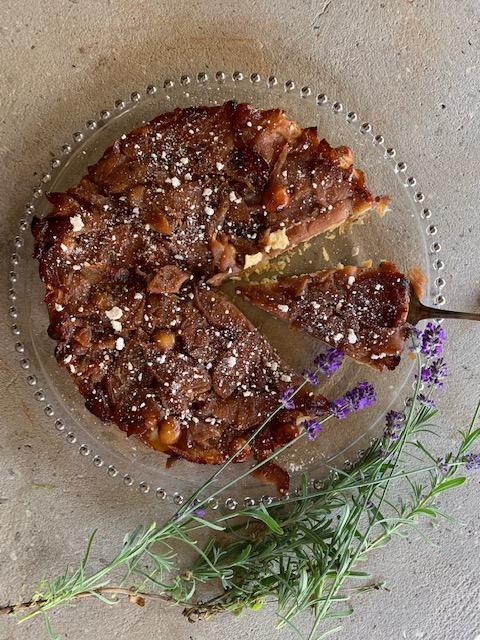 Have you ever tried edible flowers in your baking?
🌸
Apples are in abundance this year and the lavender is still flowering so here's an eye catching mouthwatering dessert to mark the advent of autumn!
🍏🍂🌳
What you need:
▫️I loose bottomed, buttered cake tin
▫️1 roll of chilled shortcrust pastry
▫️3 tbsps coconut sugar or honey
▫️75g butter
▫️85g Nutcellars macadamia nuts (including 10g for serving)
▫️2 tbsps water
▫️6 apples, peeled cored and sliced (we used Braeburn)
▫️1 tbsp fresh lemon juice
▫️1 tspn lavender flowers (picked from the head)
▫️1 tspn vanilla extract
▫️double thick cream or mascarpone, to serve
⚪️
▫️Place the sugar, butter and water into a pan over medium high heat. Stir a couple of times and then leave until the butter has melted.
▫️Add the sliced apple, 75g macadamia nuts and lemon juice to the caramel mixture, together with the vanilla and lavender heads.
▫️Gently stir until the apples are well coated and then spoon them into the cake tin arranging them so that they are lying as flat and close together as possible.
▫️Roll out the shortcrust pastry into about 5mm thick, dusting with coconut flour to prevent from sticking. Cut out a circle just wider than the width of your cake tin.
▫️Lift the pastry circle onto the apples and press down. Pierce the pastry with a fork a few times to allow steam to escape during cooking.
▫️Place the cake tin into the oven at 180•C for about 25 minutes.
▫️Leave the tart to cool to room temperature, then remove the cake tin surround, before turning it on to a serving plate (we used a palette knife to slide under the apple base to ease it off the tin base first!).
▫️Be careful as the caramel can spill out and be extremely hot 🥵
▫️Place 10g macadamia nuts into a small sandwich bag and crush with a rolling pin
⚪️
Decorate with crushed macadamia nuts, fresh lavender and serve with cream or mascarpone.
Enjoy!