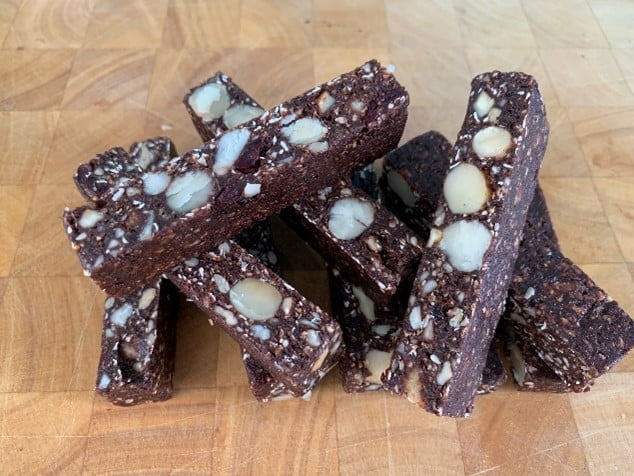 A new recipe from Chef Hayden Groves!
These bars are fantastic for a guilt free tasty snack or excellent as a homemade energy bar with all-natural ingredients for a pre, during or post exercise snack for your cycling jersey pocket, just wrap them individually in the parchment that you rolled them out in.
Ingredients
90g dried Dates
90g Dried figs
45g Almonds
45g Brazil nuts
30g cocoa powder
Generous Pinch of sea salt
60g Crunchy macadamia nut butter
45g Agave syrup or Honey
1/2th tsp of espresso or fresh ground coffee
1 Orange - Finely grated Zest
90g Porridge oats
1tbsp sesame seeds, toasted
2tbsp Sunflower seeds, toasted
30g dried cranberries
90g lightly toasted macadamia nuts
Method
Cover the dried fruit in boiling water, soak for 10 mins and drain
Lightly toast the almonds, brazils and macadamias, cool and pulse in a small blender until a coarse texture.
Remove the nuts and reserve.
In the blender, puree the dates and figs, with the cocoa powder, salt, nut butter, honey or Agave syrup, espresso and the zest until smooth.
Transfer the puree to a bowl and stir in all the remaining dry ingredients. Once it is combined, I find it easier to give it a final mix by kneading with hands on a clean bench.
Roll out between two sheets of parchment to a square of 16 cm x 16cm, using a palette knife to square and neaten the sides.
Freeze for an hour, this helps create a neat cut.
Cut the square in half and each resulting rectangular half into 8 even bars. (16 in total)
It is a good tip to leave them on the cutting board for an hour uncovered to just dry slightly on the edges, before storing in a sealed container for up to 5 days or freeze for up to 3 months.
HG - "I love using nuts in my recipes, not just a fantastic source of Protein, vitamin E, omega 3 and 6, and essential minerals and fibre but they are truly delicious too.
I've used 3 different types in my recipe and the star of the show is the Macadamia which features in two forms, a luxurious nut butter and generous whole pieces that really give a lovely texture through the bar. The addition of cocoa and coffee add a touch of bitterness to counteract the natural sweetness of the dried fruit.
You can elevate this bar further for a café offering by rolling the mix a little thinner and topping with a salted peanut brittle for even more texture and variation."