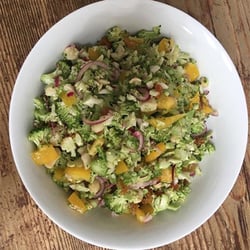 Ingredients:
Half a head of broccoli
2x tbsp apple cider vinegar
1x tbsp honey
1x tbsp sea salt
1x red onion (thinly sliced)
¾ cup of dates
¼ macadamia nuts (roughly chopped)
1x yellow capsicum pepper (roughly chopped)
1x tbsp olive oil
Method:
Whisk the vinegar, honey, and sea salt. Add the thinly sliced red onion, and leave it submerged for at least ten minutes.
Rinse the broccoli before blitzing in a food processor or chop the broccoli until reasonably fine.
Place the dates and the macadamia nuts in a large bowl with the broccoli.
Place the red onion "pickled mixture" and the roughly chopped capsicum pepper into the salad. Add the olive oil, toss and serve.