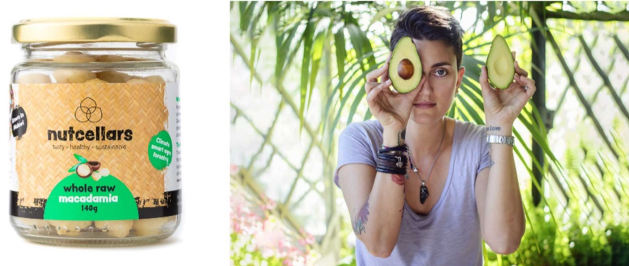 Nutcellars whole raw macadamia and Instagram Influencer Chef, Bettina Campolucci Bordi
Bettina Compolucci Bordi loves everything plant-based food and when she heard of macadamia gurus Nutcellars' wish to collaborate, she was only too delighted to accept. Having grown up in Tanzania and living there until the age of eleven, Bettina has an inherent love of Macadamia and holds Africa very close to her heart. Now settled in London, Bettina posts daily recipes to inspire people to integrate more plant-based ingredients into their diets.
Bettina will be making a Garlic and Herb Macadamia Nut cheese on a live Zoom Cookalong session on Wednesday 20th May at 2pm and will be inviting fans to take part. The recipe is plant-based and suitable for vegans!
Nutcellars macadamia nuts are delicious and provide a wide range of nutrients and health benefits. Bettina's ingenious idea is to make a homemade version of a very famous eighties garlic and herb soft cheese with the delicate white globes and is certain that it will be well-received as the ultimate lockdown pick-me-up!
Bettina has spent the last four years cooking, blogging, and developing recipes on Instagram in a professional capacity. The accomplished Instagram influencer has also spent seven years staging health retreats in normal times at exotic and beautiful destinations all over the world, where she gained inspiration for her first two books and is now writing her third. Bettina has amassed a huge audience of 119,000 followers on Instagram and is officially classified as an influencer, complete with a blue tick of authenticity, the goal of all influencers!
Bedford-based macadamia nut supplier, Nutcellars approached Bettina to raise the profile of their ethically produced macadamia nuts and incorporate them into a recipe.
Director Andrew Emmott said:
"We are really pleased to be working with Bettina to raise the profile of our Macadamia nuts. Bettina's plant-based focus and her concern for sustainable sourcing chimes well with our brand values of tasty, healthy, and sustainable. My family have spent the last thirty years working with smallholder farmers in Malawi to help produce the nuts. Independent farmers make up 90% of all the food produced in Malawi and staple crops such as maize can be volatile and prone to erratic yields. Farming macadamia provides the farmers with vital extra income, especially at this uncertain time."
Bettina suggested a Virtual Cheese making class on the popular conferencing platform, Zoom®, using Nutcellars macadamia nuts to make a macadamia based, garlic and herb creamy nut cheese – Nutcellars loved the idea and have marked the date when this will take place:
Bettina positions herself as a plant-based chef, as she prides herself on strictly monitoring the provenance of the ingredients she uses in her recipes. Bettina loved the ethical values of Nutcellars macadamia and links to smallholder farmers in Africa and hence was very happy to collaborate in the Zoom cook along, for her audience of avid foodies who are all in lockdown and eagerly await her daily recipe creations, already producing forty recipes since the UK went into lockdown.
Bettina said:
"I was really happy to be approached by the team at Nutcellars to create a recipe using their delicious macadamia nuts. My nut cheese recipe comes from my love of plant-based cheese and I have sped-up and modified one of my favourite recipes to incorporate whole macadamia nuts as I feel their intense and delicious flavour will greatly compliment the garlic and herb flavour notes in the luscious creamy cheese – I'm sure the Zoom cook along participants will love the finished result!"
Bettina will host the cheese making class and create an ingredients list that participants will have to source beforehand from grocery shops and from Nutcellars for contactless delivery online:
To take part in the course, simply click on this link to register your interest, the cost is just £19.
Nutcellars will package and send finest Malawian macadamia nuts to all the participants in order to make the creamy nut cheese.
Notes to editors
For interview or photos of Nutcellars or Bettina's Kitchen, please contact catherine@redcherry.uk.com or phone 07585 700030.
Nutcellars
In these uncertain time Nutcellars' is receiving regular updates from the partners and farmer cooperatives in Malawi. There is growing concern in Malawi which is expecting to lose 100,000 people to Covid-19. Social isolation is likely to lead to serious economic shocks, food shortages, and starvation. The work our partner charity Neno Macadamia Trust are doing with smallholder macadamia farmers aims to build their resilience in the face of climate shocks. All we can reasonably do is to continue to do the same and hope that the resilience helps them through this crisis too. NMT will be looking to scale up our work within the limits of our resources and need to prepare now for the recovery period. Please support this work by selecting Neno Macadamia Trust on Amazon Smile and Give as You Live so that every purchase you make contributes a small percentage of the Amazon and Give as you Live retailer margin to your charity of choice.
Bettina's Kitchen
To really understand Bettina's background and where her love of food began we will have to go back to the very beginning. Her father is Norwegian and mother Bulgarian/ Danish and Bettina? 'Well I was born in Denmark but grew up my first 11 years in East Africa, Tanzania to be precise and after that in Sweden. In Tanzania I used to go with my mother to the food markets to pick our fruits and vegetables and learnt quickly the art of haggling for best quality and price.'
For more information visit: www.bettinaskitchen.com